Less Than and Greater Than
The "less than" sign and the "greater than" sign look like a "V" on its side, don't they?
To remember which way around the "<" and ">" signs go, just remember:
The "small" end always points to the smaller number, like this: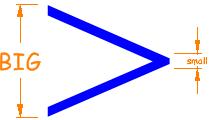 Greater Than Symbol: BIG > small
Example:
10 > 5
"10 is greater than 5″
Or the other way around:
5 < 10
"5 is less than 10″
Example: John had 10 marbles, but lost some. How many has he now?
Answer: He must have less than 10:
Marbles < 10
If John still has some marbles we can also say he has greater than zero marbles:
Marbles > 0
But if we thought John could have lost all his marbles we would say
Marbles ≥ 0
In other words, the number of marbles is greater than or equal to zero.